When you started your landscape business Facebook page, you probably shared it with all your friends and family, maybe made mention of it in an email to past and current customers, and then waited for the lovin' from thousands in your local area. And waited.
And waited.
And waited.
How can the world of Facebook know how awesome you are unless they all like your page? And how can you show potential customers you're the best if you only have 63 people who like your page? This can sometimes lead desperate business owners to make one (or both) of these mistakes.
Buying likes for your landscape business Facebook page
There are websites out there where you can buy thousands of likes for mere dollars. It's tempting; overnight you can go from zero to hero, boasting 5,000 fans on your Facebook page! But it's not about just numbers (as you'll see here in a minute).
Trading likes with other landscape contractors
If you spend any time on industry forums, you'll see threads where someone gets a brilliant idea. "Hey guys, post your Facebook page links and we'll all like each others' pages!" It's an easy way to fluff up your numbers, but it's almost as bad an idea as buying followers. Why is that?
How Facebook really works for businesses
Way back in the early days of business pages, it was easy to get thousands of people to see your Facebook posts. Then Facebook made a major change. They would be using an algorithm to determine who got to see your posts. Today, on average, only between 5-10% of your followers will ever see a given post.
Now that's not an absolute number. It's an algorithm, which means it's watching the way people interact with your posts to Facebook. If a post is getting a lot of likes, comments, or shares, Facebook assumes it's a good post – and more people get to see it. If you have several good posts, Facebook may start showing more people each post to start with. On the other hand, if every post you make falls as flat as a racist joke at a formal dinner party, Facebook may actually show your posts to FEWER people.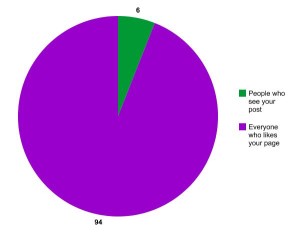 Here's where the quality of your Facebook fans makes a huge difference. Let's say 100 people from your local area, who might actually want to buy from you, like your page. Let's also say that you've swapped likes with 300 other landscape professionals, and maybe 10 people randomly clicked like on your page as they saw it go past in their feed. That's 410 page likes, which is pretty good for a local landscape business. Let's say you create a Facebook post, and that day Facebook shows it to 6% of your followers (which is pretty standard). That's 25 people.
Facebook isn't going to select which 25 people see your post by what helps you. Maybe 10 of your potential customers will see your posts. Or maybe everyone who sees your post comes from that group of 300 landscape companies you swapped likes with. Are you going to get business from a lawn care company located 800 miles away that sees your post? Probably not.
How to use your landscape business Facebook page the right way
Facebook is tough as a lead generation tool. That's not really why people go on social media. They want to see how their niece did in surgery, argue with someone about politics, and catch up with their friends. They're not there to be sold to. A facebook marketing strategy is a slow burn. Here's how to do it effectively.
Grow your followers organically. Make sure all your clients (past and present) get an invitation to like your page. Email them a link, because if you just say "find me on FB and like me" they won't.

Don't buy followers

Don't do follow for follow swaps with other landscape contractors

Post content that people want to see, or will want to share! That can be timely lawn and garden tips, great photos or videos of your projects, or other things that will grab someone's interest and paint you as an expert.

Post regularly, but don't post garbage just to post something
Still a little lost on how to manage your landscape business Facebook page effectively? We can do that for you! Contact us today to learn more.