There are a lot of landscape pros killing it out there on social media. Their posts are tight, they're engaging, and they make potential clients want to learn more about that amazing brand. That's what you want social media to do. Social media lets brands connect with people as real, actual human beings, which can shorten the sales cycle and lead to deeper relationships, which means more loyalty and higher customer value. Awesome, right?
But then there are other companies who just don't seem to get it. We're not going to name names, but here are some ways to be so bad at social media that you're inadvertently driving clients away.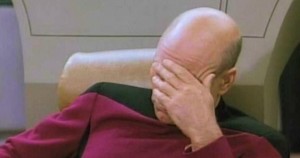 Post the exact same thing across every platform
I get it, you're busy. It can be hard coming up with something original for every post, so it may seem like the best bet is to use the same post on Facebook, and Twitter, and LinkedIn, and Houzz, and so on. You know what the problem is with that? A lot of your customers, or potential customers, may follow you on multiple social media networks. If I see the same thing coming from you on Twitter and Facebook, I'm going to unfollow you on at least one network, or maybe both. Why take that risk? Even if you're linking to the same content (blog post, magazine article) at least change up what you're saying about it. No one likes to feel like you're just phoning it in.
Sell to us like it's President's Day weekend and you're a used car dealer
Think about why you go on Facebook. Are you going on Facebook to chat with your friends, read news articles, and slack off a bit? Or are you logging in hoping to see so many calls to buy something that even the Draft Kings/Fan Duel people say "whoa, dude, ease up on all the ads"? Exactly. Here's a great example of what NOT to do:
Not only are they posting the same sales message over and over, they're re-sharing the sales message. Crazy! And go figure, this is the last post on their wall: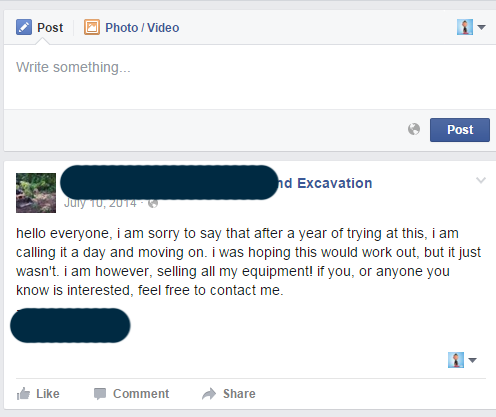 I'm not saying it's cause and effect, but I'm not NOT saying it either. Don't let this be you.
Post random stuff that has nothing to do with your business
I've seen lawn and landscape companies that use their company Facebook page like a bizarre clearinghouse for bizarre articles and links. A potential client is liking your page, and therefore opting in to receiving your updates, because they are interested in your landscape company. Posting video game news (seriously, I've seen a landscape company do this on their Facebook page) will only serve to confuse and frustrate your readers.
Your posts are "me me me me" all the time.

Social media can be a great place to occasionally share news about a new hire or a project you recently completed that you're proud of, but with the exception of your mom – most readers just aren't that into you. If you can share articles, videos, and links that are relevant to your business and interesting, your clients will read them, enjoy them, and SHARE them. Sharing is the Holy Grail here.
What will clients share? Well, I found that a lot of folks will share links that talk about plant pests and diseases. They share tips on simple projects they can do, and how to improve their home's value. Remember that like Toby Keith says above, your clients are saying "I want to talk about ME."
Not having a strategy
Not having a social media strategy is hands down the best way to fail at social media. If you plan out what you want to share, where, and when, you'll always have something relevant and exciting for your clients.
Need help with your lawn or landscape company's social media strategy? We can help you two ways:
we can manage your landscape company's social media for you. We'll come up with a strategy to include content, platforms, and posting frequency and then we'll handle everything for you. It's like having an in-house social media manager at a fraction of the cost.
if you want to handle the execution of your company's social media strategy yourself, but you want help developing and maintaining that strategy – we do that too. We'll work with you to develop the campaign and have regular meetings to discuss what's working and how we can tweak the program.
Whichever works for you, contact us today to get started. We'll make you look good.