Every time I give a workshop on blogging and social media I hear the same thing: "I want to use social media better but I never know what to post!" It's a common problem with a simple solution: plan it in advance with an editorial calendar.
By waiting until the day you want a post to go live you run the risk of "life happens" syndrome. You have jobs in progress, vendors to call, bills to pay, and now you're trying to come up with something to say on social media? That's a lot of pressure that you don't need to put on yourself. An editorial calendar makes it easy. You decide in advance what you want to cover, and then you just have to show up. Here's how it works.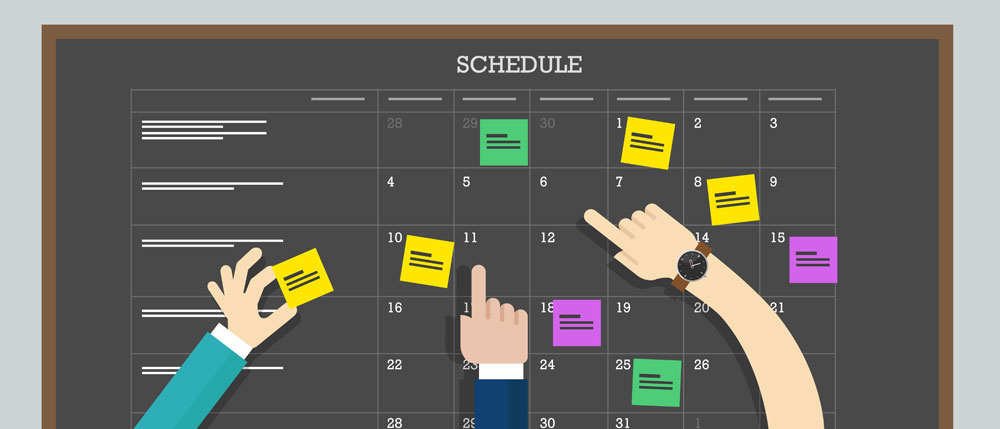 Building an editorial calendar for your landscape business
We'll talk about editorial calendars for landscape company blogs, but the same principles apply for any social media platform (Facebook, Twitter, etc). When we're planning editorial calendars for our clients we always start big and work down to details.
Step One: Monthly
The first step is to decide what you'll cover each month. Ideally you want this to line up with what you're trying to sell at those times. For example. September or October (depending on where you live) may be talking about the benefits of fall cleanups or fall fertilization. November could be holiday lighting. You want to use your social media efforts to help your sales.
Step Two: Weekly
How often are you posting? Let's say you post once a week. Within that broader topic (for example, holiday lighting) come up with a related topic each week. I might talk about LEDs vs incandescent for one post, best ways to light a roof peak in another, and so on. The idea is to let the client know YOU are the expert. As mentioned, the same principles apply with your other social media platforms.
Step Three: Execute!
Now you just need to write your posts and schedule them. If you choose to do them the day they go live, you'll find having a plan makes things way easier. Even better though, you can now do batches of social media posts at once. There are tools like Buffer and HootSuite that let you schedule your social media posts in advance. We use CoSchedule because it lets us easily schedule blog posts as well as all our social media posts promoting our posts.
---
If all this makes sense but still seems like a lot of work, we can help! Green Pro Marketing offers workshops on editorial planning if you want to handle your social media posting in house, or we can do it all for you. Contact us today to learn how we can help you increase your leads and get more quality prospects.