I'd wager that the majority of landscape pros are still doing most of their drawings by hand. A hand drawing is quick and easy and often all you need to sell a small project. However, many small businesses reach a point where they may need to start looking for the best landscape design software, based on any of these conditions:
You're no longer on site all the time and a crew needs to be able to easily understand your drawings

You're submitting drawings for HOA or review board approvals

It's a large, complex project with many moving parts

Making revisions is eating up your time

You've reached the limits of your hand drawing skills

You're doing a huge volume of drawings and wish there was a quicker way
So how do you know what to choose?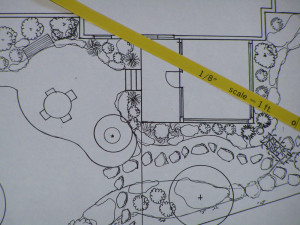 3 factors for choosing the best landscape design software
There are numerous options for landscape design programs out there, and the choice can seem overwhelming. Luckily there are just a few factors to consider
Output
The first question I ask when debating what's the best landscape design software is "what do you want it to do for you?" You have a lot of options:
2D black and white plan views

Color rendered plan views

3D computer-generated renderings

Photo manipulation (overlay pics of plants, etc on a photo of the existing site)

Full material takeoffs

Estimating
It's important to think about how you want to present to the client and select your software accordingly, rather than adapting your business to what a piece of software does.
Ease of use
There's going to be a learning curve with all software, but deciding how much effort you'll (realistically) devote to learning it is important to consider. Many software packages let you do a 14 or 30 day free trial, which is a great opportunity to see if that package works for you.
Related to ease of use is the availability of training for a landscape design software. Are you totally on your own? Are there good written or video tutorials? What about classroom training? Part of the reason why I use AutoCAD is it was what they taught at the local community college.
Price
Price is always a consideration when choosing the best landscape software for your business. If you use it regularly and it helps you sell jobs it will earn its place in your office, but the numbers still have to make sense. Be sure to research thoroughly to see if upgrades are covered and if it's a one time fee or a recurring monthly subscription.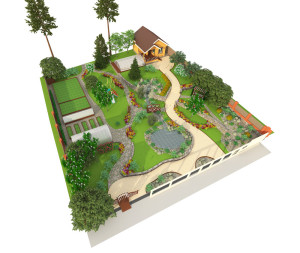 What are the options?
There are a boatload of landscape design software options on the market. These are the ones I see talked about the most.
DynaScape – If I were started out as a landscape designer, I'd probably look most closely at DynaScape. The output looks great, especially if you spring for the color rendering features. It is a bit pricy, but if the numbers work it's pretty slick.
AutoCAD LT – as mentioned, this is what I've always used. It does pretty much none of the thinking for you and there really aren't fancy features for rendering or estimating. It's best described as a dumb electronic drafting table. The advantages are price, the fact that the .dwg or .dxf formats mean you can exchange files with architects and engineers, and a lot of the manufacturer CAD libraries are made for AutoCAD. You can also buy the full version of AutoCAD, for a lot more money, but in 10+ years as a designer I never found my toolset lacking.
SketchUp – SketchUp is an amazing tool for 3D work. What makes it so powerful is that there are loads of programs that work with it for rendering and creating gorgeous finished models. I've seen some people use it for 2D plans, but that just seems clunky to me. Plus it's like using an M1 Abrams to go get milk at the corner store. So much wasted potential.
VizTerra/Pool Studio – This is another 3D design program. I haven't used it but I've worked with several pool builders who do. It's very popular in that space, which leads me to believe you can crank out projects pretty quickly (pool sales is crazy competitive and fast moving).
PROLandscape – based on informal conversations, this seems to be a pretty popular entry-level CAD program. Contractors seem to really like the ability to take photos of existing conditions and create a representation of what things could look like.
---
There are plenty of other options out there, but this gives you a great head start on choosing the best landscape software for YOUR business. If you'd love to go with a landscape design software but you need more leads to justify the outlay of cash, what does your web presence look like? We can help you increase the number of leads and close more jobs. Contact us to find out how.